October 2019 Issue
Newsletter
Dear IHBA Members,
As I struggle to find the time to write to you all, it is at least due to the amount of work I am involved with within this sector rather than other external issues. Anyone who read my last Newsletter will hopefully remember that I paid tribute to Greta Thunberg and will be doing so again later but the increase in the waves of understanding and protest about the lack of any governmental actions to address the problem, illustrates how an increasing number of us are waking up!!
Our still small world of Hemp Building should be well positioned to gain some growth from this expanding knowledge base around the world but if we do, we can do it with confidence that we are not adopting the 'greenwash' approach because what we are promoting, researching or selling is not only a truly 'green' product but one that offers serious solutions to the Climate and Resource issues facing our survival.
With that in mind we as a community need to add our weight to the push for transitioning our societies currently being or at least beginning to be, addressed. Education is still a very important part of what we need to do as there are still many sectors who don't know enough about these materials or systems, especially Architects and designers. As an industry we have many resources now to help us explain how Hemp Building materials especially Hempcrete can be incorporated into a design for any kind of occupied structure in the form of diagrams and images that can be used in presentations or literature on the subject.
However it is at our Symposiums and others now like them, that the whole range of applications and developments can really be seen. So it is with great pride that I announce our next 9th Symposium which will be held in the UK at the home of one of Britain's Hemp producers Harrison Spinks. Located in Yorkshire in the North of England the venue is able to provide us with both Conference room and Accommodation both of which have been renovated with Hempcrete so we will be surrounded by the material we all love but also we will be able to visit the factory where the Hemp straw is processed to make both Mattress filling and Building materials. (see more info below)
As might notice we have moved the event back a week due to other member commitments and there will be an option of staying for the day on the 2nd as we are arranging a SPRAY DAY event at the Harrison Spinks factory at which we hope to demonstrate a wide range of spray options for Hempcrete.
Meanwhile other members have been busy promoting the system in their regions including long time IHBA member Roger Dauer who has organised, together with other young German Hemp Building fans a Hemp Cultivation Symposium held in Berlin this August. Around 30 people showed up for this two day event where many demonstrations and talks were given to help educate about the potential of using Hemp for building and on the second day there was an opportunity to get your hands dirty practicing the art of mixing and then applying everything from Hempcrete to fine Hemp plasters. Other finishes such as lime plasters and polished Tadelakt techniques were exhibited.

Hemp Cultivation Symposium Berlin organised by the Hanfbau-Kollektiv and IG Naturbau e.V
Education has also been a large part of the activities of Cannabric Ceo Monika Brümmer, who in her role in the Sunimplant team entered the Solar Decathlon Africa competition this year. The team consisted of the National School of Architecture of Tetouan (ENAT0, the Moroccan cooperative Adrar Nouh, the National School of Applied Sciences of Tetouan and the German Fraunhofer Institute. The Sunimplant team developed a concept for the preservation of the environment and cultural heritage in the rural region of the High Rif in North Morocco. The teams innovative approaches are based on traditional cultivation, in particular the versatile hemp plant and it's agricultural waste. In addition, there are bioclimatic construction concepts and environmentally friendly technologies that are adapted to the current standards of comfort and energy efficiency. The fantastic building they erected consisted of a central circular building with a living roof surrounded by shade giving, hemp fibre panels upon which Photovoltaic panels were mounted. For some reason the wide range of concepts gathered into this uniquely Moroccan design did not attract the votes of the judges who seemed to give the prizes to projects with few of the target ideals realized within Sunimplants wonderful building. Especially as the team of builders consisted mainly of students and many of these young women. See the pictures for yourself below.
The young team beginning erecting their entry.
Students and volunteers fix the foundation frame.
External panels made from Hemp fibre biocomposite attached to both provide shade and attach PV panels
To return to the story featuring Greta Thunberg for a moment it is wonderful that the uncynical voice of youth be given a platform such as the U.N to talk directly to the world and in these days of still having to fight for sexual equality, that she is a girl. As we get older we inevitably start to see the issues in shades of grey but the young see things in a more simple light of black and white and as always we need that part of society to bring us back to that contrast and now more than ever. It is this aspect of the Sunimplants project that I think was extremely important. That Monika has been able to persevere with her activities in a country like Morocco is quite a feat to start with, as in many developing nations women are not generally given much of a voice (not that it is much better in the developed world!) so that she was able to gather together the energy of so many female engineering students in Morocco is fantastic and something that will hopefully be an example for many other parts of Africa and the Middle East.

I am sure we will hear more about the project in March at the 9th Symposium. Meanwhile I am looking forward to meeting all the delegates at the US Hemp Building Summit next week. I hope to be able to set the U S Hemp Building Association off on the right foot keeping the goals both realistic and idealistic as they begin their activities. Several of our members will also be there so it will be an opportunity for me to meet up again or for the first time.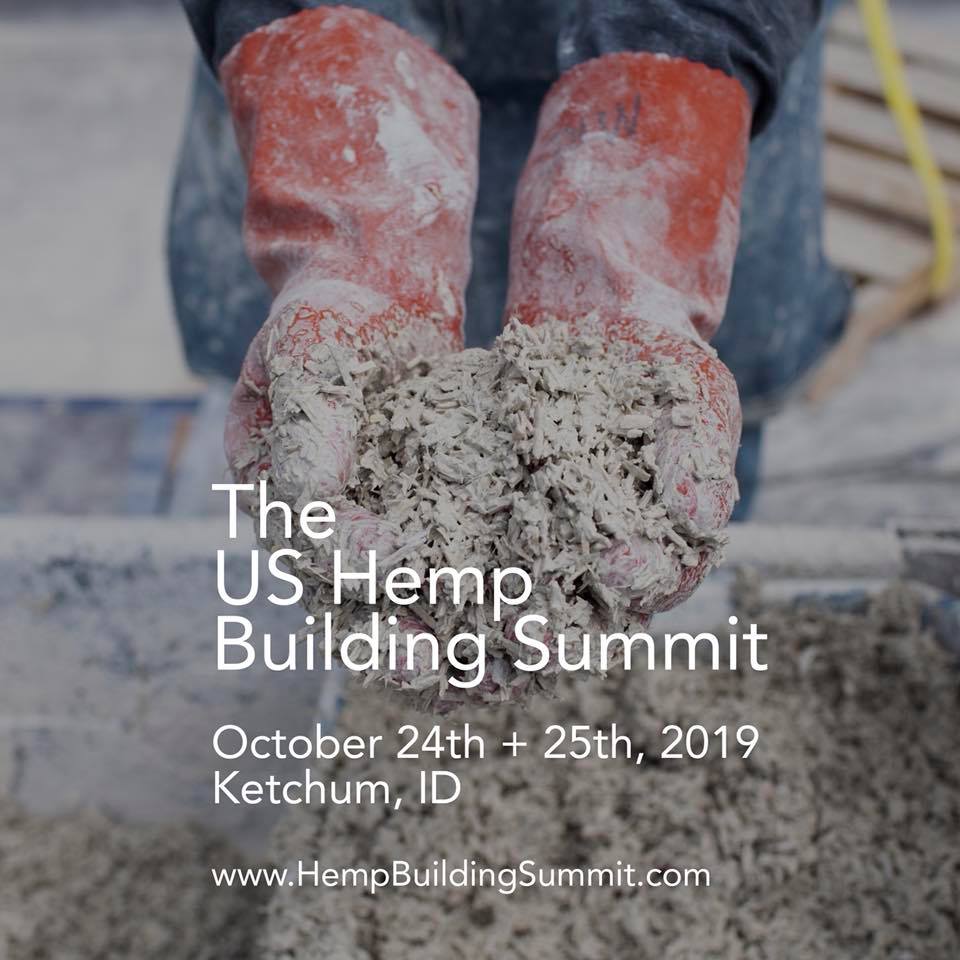 Ketchum, Idaho
October 24th & 25th, 2019
Presented by the US Hemp Building Association
Join international hemp building experts and US hemp building leaders at the first ever gathering of its kind in the United States: a summit to advance building with hemp based building materials. This event will mark the formal launch of the US Hemp Building Association, a 501c6 trade organization formed to accelerate hemp building adoption in the US.
9th International Hemp Building Symposium
Hornington Manor, Yorkshire, UK. 31 March – 1 April 2020.
Presented by The International Hemp Building Association.The 9th International Hemp Building Symposium will be held in the heart of the North Yorkshire countryside, Hornington Manor is a unique venue. The Grade II listed Manor was built in 1770 and has been lovingly restored to provide luxury self-catering accommodation, which is the perfect setting for our next Symposium.
It is also the site of the 300 acre Harrison Spinks farm which provides Hemp fibre for top quality mattresses.
The two day event will consist of international speakers with the latest research results and material tests. There will also be presentations from people working in the industry about projects they are involved in both planned or completed. This year's Symposium will also feature an extra day on the 2nd of April, featuring a range of Hempcrete spraying technologies.The 9th International Hemp Building Symposium is organised by the International Hemp Building Association and hosted by UK Hempcrete and Harrison Spinks.
To end this Newsletter I would like to draw your attention to our new look website created by our IHBA secretary and my wife Aia. Migrating a website from one template to another is quite a feat I can assure you so Thank you Aia!!
Please keep us up to date with your activities so we can tell all the members too!
Hope to see you all soon either in the US or in the UK next year.